After long wondering, which buffet is the best in Penang: E&O or Rasa Sayan? I finally tried the Spice Market Cafe of the Shangri-La Rasa Sayan. If you're looking for a good buffet experience in Penang, Spice Market's dinner buffet at Rasa Sayang Hotel is definitely worth checking out. Located in the Batu Ferringhi so combine with beach visit! This five-star hotel offers a weekend buffet that's perfect for those who want to indulge in a variety of delicious dishes.
Price and Reservation
The weekend dinner buffet at Spice Market costs RM436 for two people, which translates to RM218 per person. While this may seem pricey at first glance, it's important to keep in mind that you're paying for an upscale dining experience that features high-quality ingredients and a wide range of dishes to choose from. Reservations are recommended, especially during peak seasons, to ensure that you secure a table. I called around noon of the same day.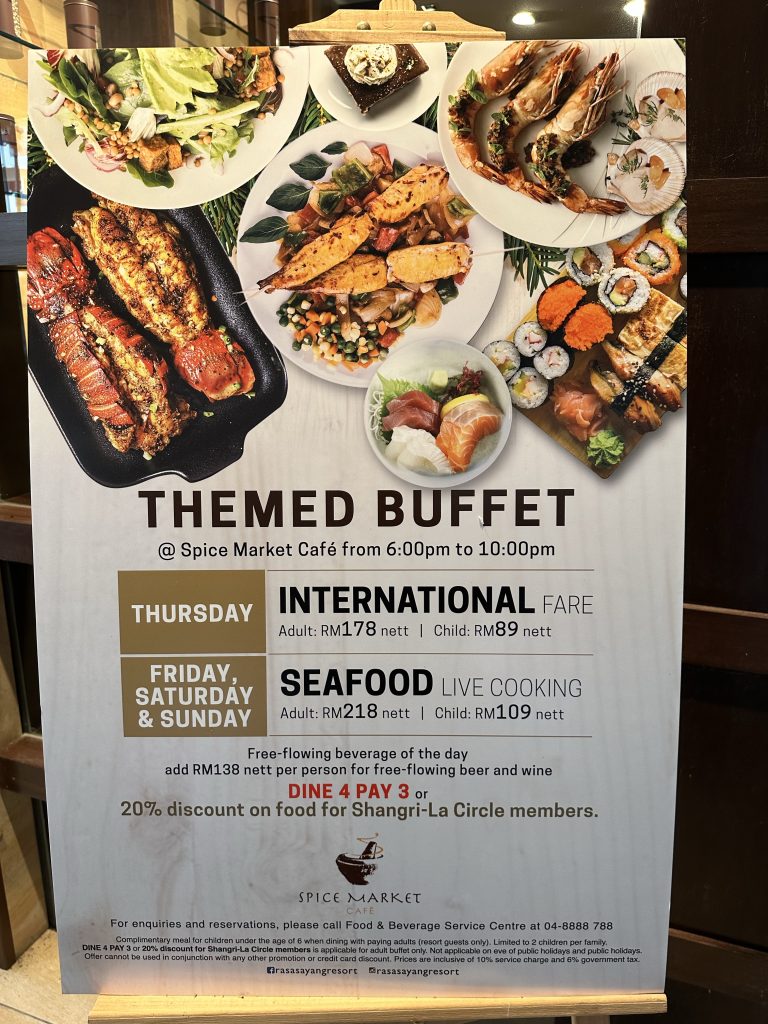 Ambiance and Atmosphere
The dining area is spacious and elegantly designed, with a warm and welcoming ambiance that makes you feel right at home. The seating arrangement is comfortable and provides ample space between tables to ensure privacy. After all it was filled but in the beginning the staff kept our neighbouring table unoccupied.
Food Selection and Quality
The highlight of the buffet is the impressive array of the seafood section. Of course, the selection is not limited to the seafood and traditional Malay, Chinese and Indian cuisine are also available so it would be a one stop place for a tourist to taste every bit of Penang!. The best part, however, was the seafood selection, particularly the fresh oysters that were an absolute delight to eat. The roast beef station and noodle section are also must-tries (despite the noodles are usually no go in the cost benefit, LOL). Dessert lovers will be spoilt for choice with an extensive selection of cakes, pastries, and local sweet treats.
The quality of the food is top-notch (but as buffet), with each dish prepared fresh and good ingredients. The presentation of the dishes is also impressive, with attention paid to the smallest details. If you need a good picture for your instagram, come at the opening time.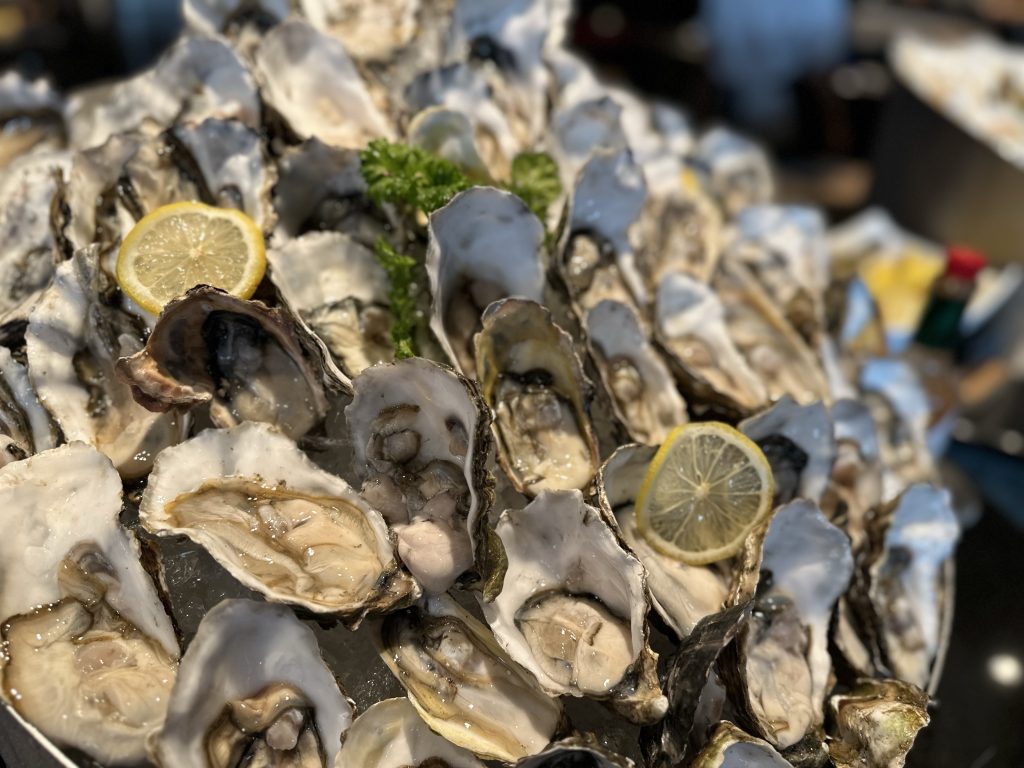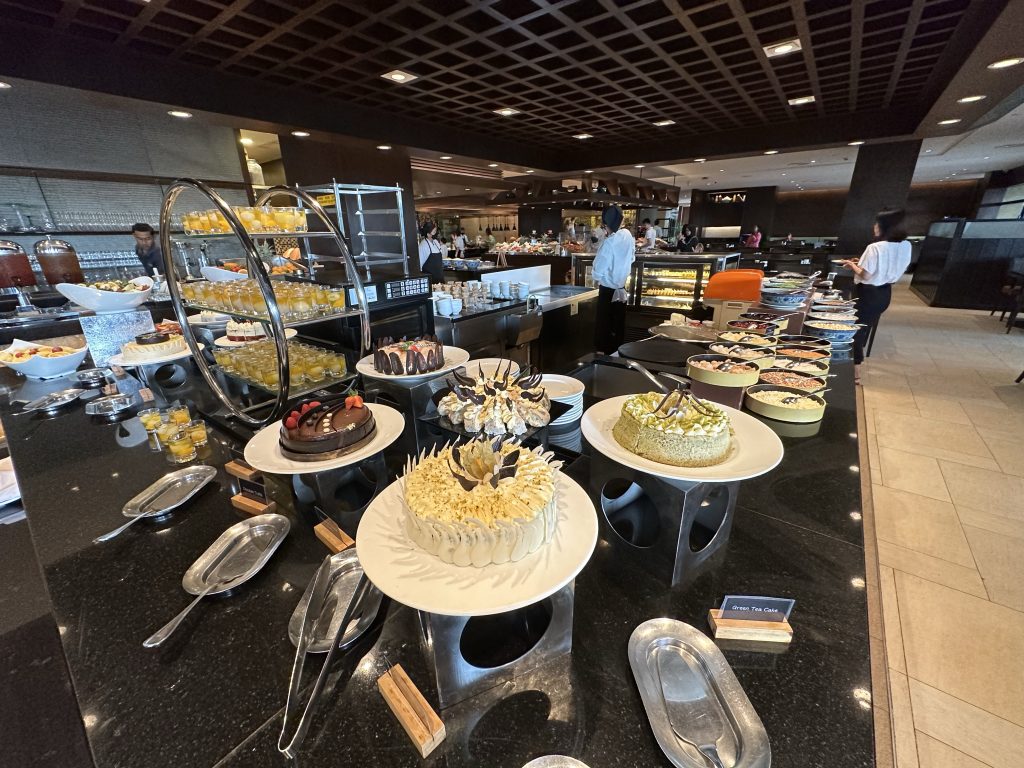 Service and Staff
The staff at Spice Market are attentive and friendly. They're always ready to respond, and are quick to refill your drinks or clear your plates. We had a few occasion needed their attendance but not waited for them at all!
The service is efficient yet unobtrusive, allowing you to enjoy your meal without any distractions.
A few other things I should note is the table setting. Finally I had proper cloth paper napkin at a restaurant, and they even had a finger bowl on the table! They also glass of water ready at your table which is small things but made my experience much better!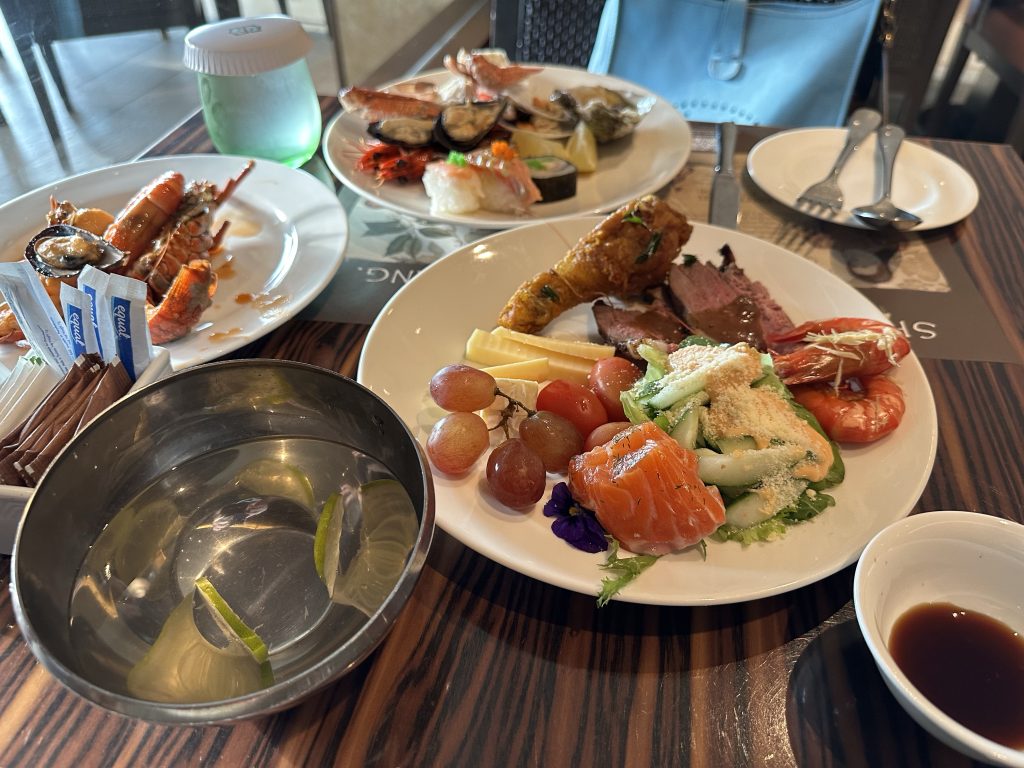 Comparison to Shakies at Eastern and Oriental (E&O) Hotel
I am not sure this is taboo? But this was my long time question. The answer is, depends!
Sorry I know its not what you want to hear so let me make a pro-con list.
Pros at Spice Market (Rasa Sayan)
their seafood selection and quality is way better than E&O. If your main focus is seafood, go for Rasa Sayan
Tables settings, dessert selection, drinks are slighly better at Rasa Sayan, for me at least
Cons at Spice Market (Rasa Sayan)
Price is higher: RM218/person in the weekend
Selection of meat is slightly less compared to E&O, my wife said she liked E&O''s Peking Duck, lamb and garlic shrimp…
Location: this is depends on where you are staying but for us Rasa Sayan is very very far and almost like a day trip
Conclusion
Overall, Spice Market's weekend dinner buffet at Rasa Sayang Hotel is a great option for anyone looking to splurge on a memorable dining experience. While the price may be on the higher side, the quality of the food, ambiance, and service make it worth every penny. If you're a seafood lover or simply looking to indulge in some delicious cuisine, be sure to check out Spice Market's weekend dinner buffet.
Please follow and like us: