Stay in style and comfort at the Westin Kuala Lumpur, located in the bustling Bukit Bintang area, offering a luxurious and relaxing experience for all types of travelers.
Read more

: A Memorable Stay at Club Floor of The Westin Kuala Lumpur, Bukit Bintang [April, 2023]
An Unforgettable Experience at The Westin Kuala Lumpur
Discover the upscale Westin Kuala Lumpur, a luxury hotel located in the heart of the vibrant Bukit Bintang area. Enjoy top-notch facilities and exceptional service during your stay at this modern oasis. Compared to the brand and experience, they offer a very reasonable price compared to the other countries.
The Westin Kuala Lumpur provides a relaxing and comfortable experience for all types of travelers, from business to leisure. With its prime location in Bukit Bintang, guests have access to a wide array of attractions, shopping, and dining options.
Location and Accessibility
The Westin Kuala Lumpur is situated in the bustling Bukit Bintang neighborhood, surrounded by shopping malls, entertainment venues, and various dining options. The hotel is easily accessible via public transportation, making it an ideal base for exploring the city.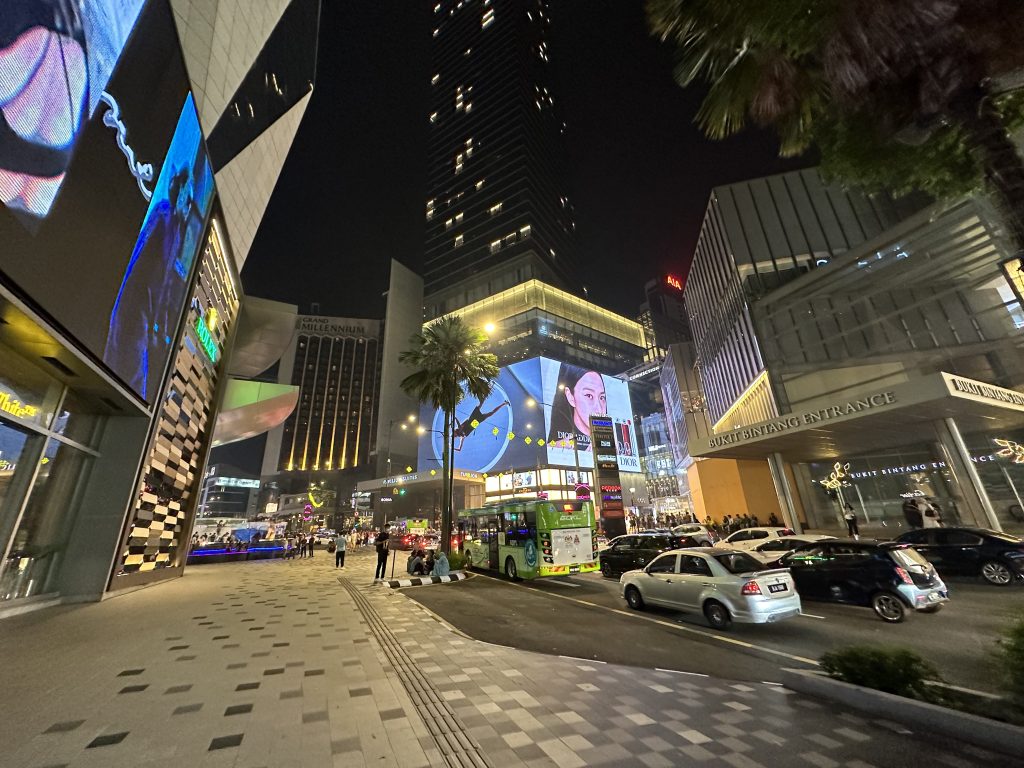 Nearby attractions: Pavilion Kuala Lumpur, Starhill Gallery, Lot 10 Shopping Centre, Berjaya Times Square, KLCC Park
Public transport:

From Kuala Lumpur International Airport (KLIA): Take the KLIA Express train to KL Sentral (28 minutes travel time). From KL Sentral, transfer to the Monorail Line and take the train to Bukit Bintang station (9 minutes travel time, 4 stops). The hotel is approximately a 7-minute walk from Bukit Bintang station.
Monorail: Bukit Bintang station (7-minute walk). The station is well-connected to various parts of the city, such as KL Sentral (9 minutes, 4 stops) and Chow Kit (13 minutes, 7 stops).
MRT: Bukit Bintang station on the Sungai Buloh-Kajang Line (approximately a 10-minute walk). This station provides access to popular locations like Pasar Seni (5 minutes, 2 stops) and KL Sentral (7 minutes, 3 stops).
Check-in and Check-out Experience
Check-in time was 3 pm and check-out was 12 pm. They offered late check-out for 1 pm, but we checked out before 12 pm as per our travel schedule.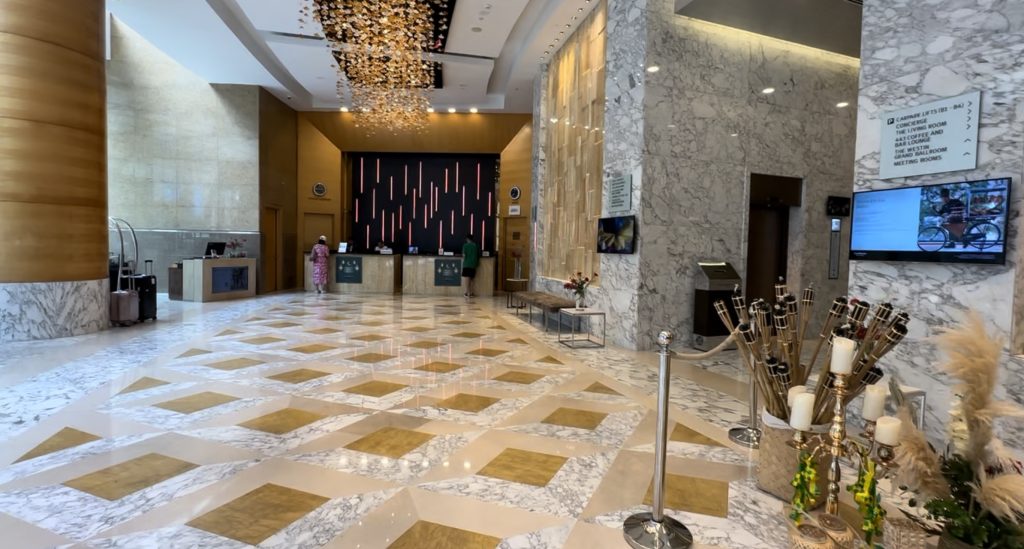 Check-in was smooth and efficient, even though we arrived a bit early. We had an option to do the check-in at the club floor, but we used the normal lobby reception desk.
The staff managed to have a room ready for us by 12:30 pm, which was a pleasant surprise. The check-out process was also hassle-free.
A deposit of RM 1,000 (approximately USD 225 at an exchange rate of 4.44) was required upon check-in.
Hotel Facilities and Services
The Westin Kuala Lumpur boasts a range of facilities and services, including a Club Lounge, a gym, a swimming pool, and a restaurant. The Club Lounge offers a spacious setting, complete with snacks, drinks, and even a balcony section to unwind and relax.
Room and Rate
Our reservation was in the King bed city view room with club lounge access.
It was booked a prime time of Hari Raya or Eid time (Muslim fasting celebration, biggest holiday in Malaysia) and it was may be higher rate, but the rate was RM752 (Apx USD 170, at USDMYR 4.44). We added extra roll-in bed at the check in and this was charged with RM70 (Apx USD 16). Inclusive of the lounge access and the breakfast.
Club Floor Benefit
Besides from the lounge access – which is explained in below, the club floor also offered with
Complimentary garments pressing for 3pcs
Late check out until 3pm, if available (we were only offered until 1pm)
Ambiance and Decor
The Westin Kuala Lumpur features a modern comfortable design, providing a luxurious atmosphere for guests to enjoy. The rooms are spacious and well-appointed, ensuring a comfortable and restful stay. Though the black table surface make little dust, which may be just came from the bed making.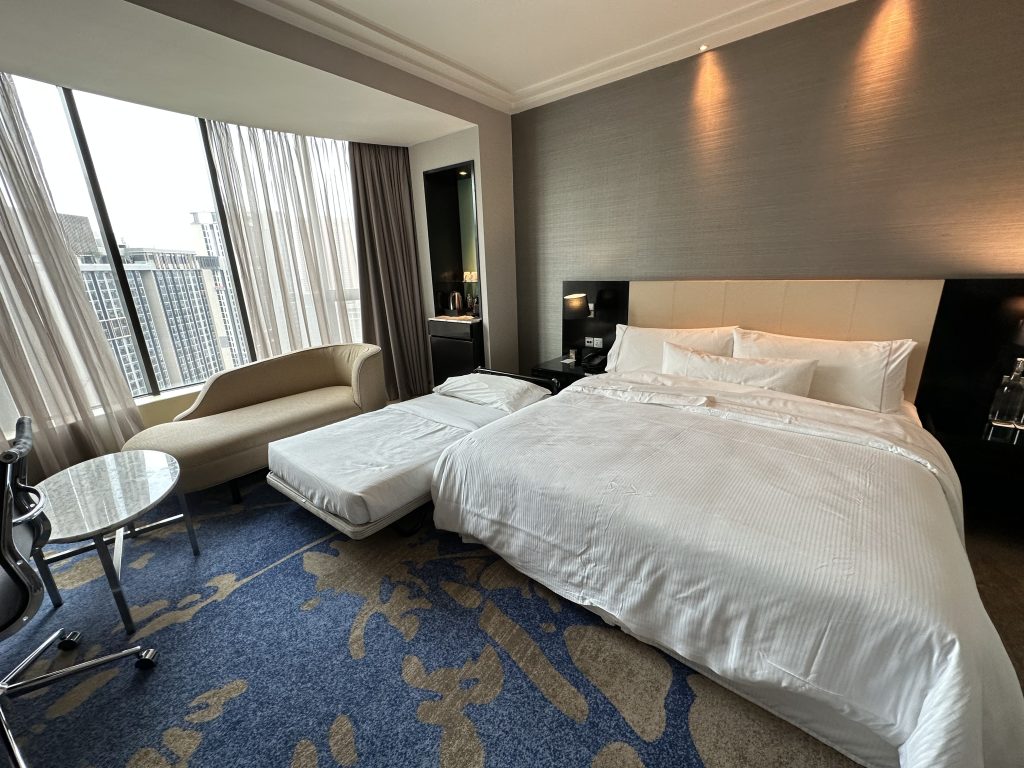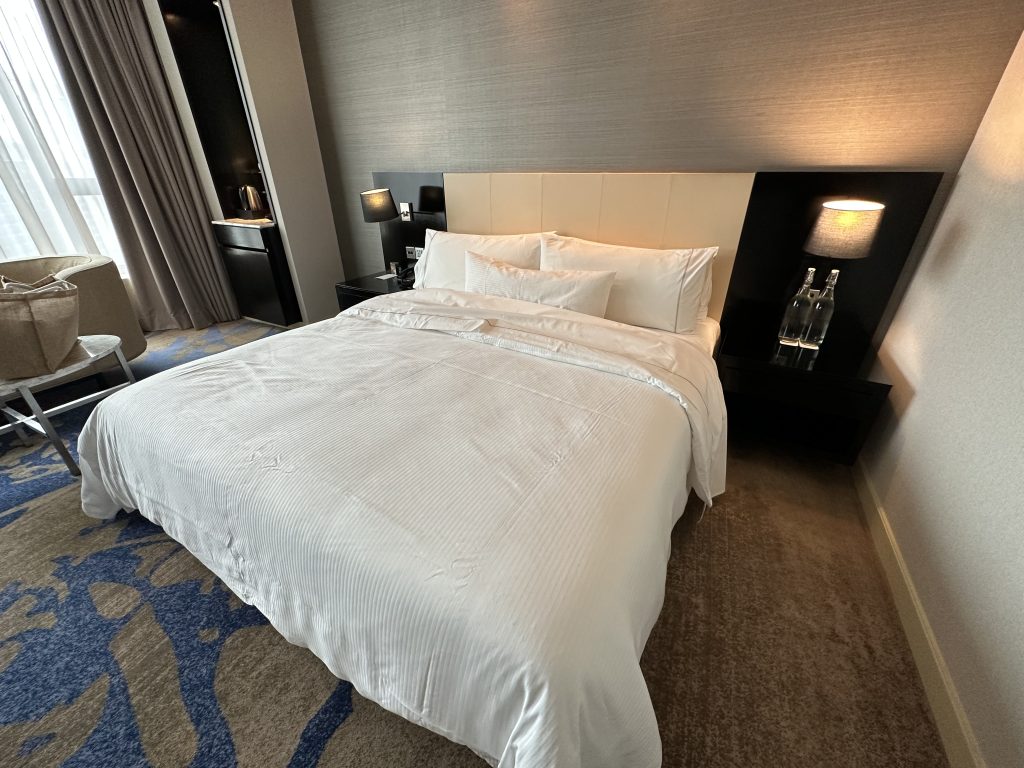 Personal Experience
Our stay at the Westin Kuala Lumpur was memorable and enjoyable. We stayed on the Club Floor and were impressed by the quick arrangement of an extra bed and amenities upon request. The hotel's service was exceptional, and the Club Lounge provided a comfortable and inviting space to relax and enjoy drinks and snacks throughout the day.
Room Types and Amenities
Our room was spacious and comfortable, with an extra bed provided at a cost of RM70. The in-room facilities were well-maintained, ensuring a pleasant stay.
【WiFi】Free and reliable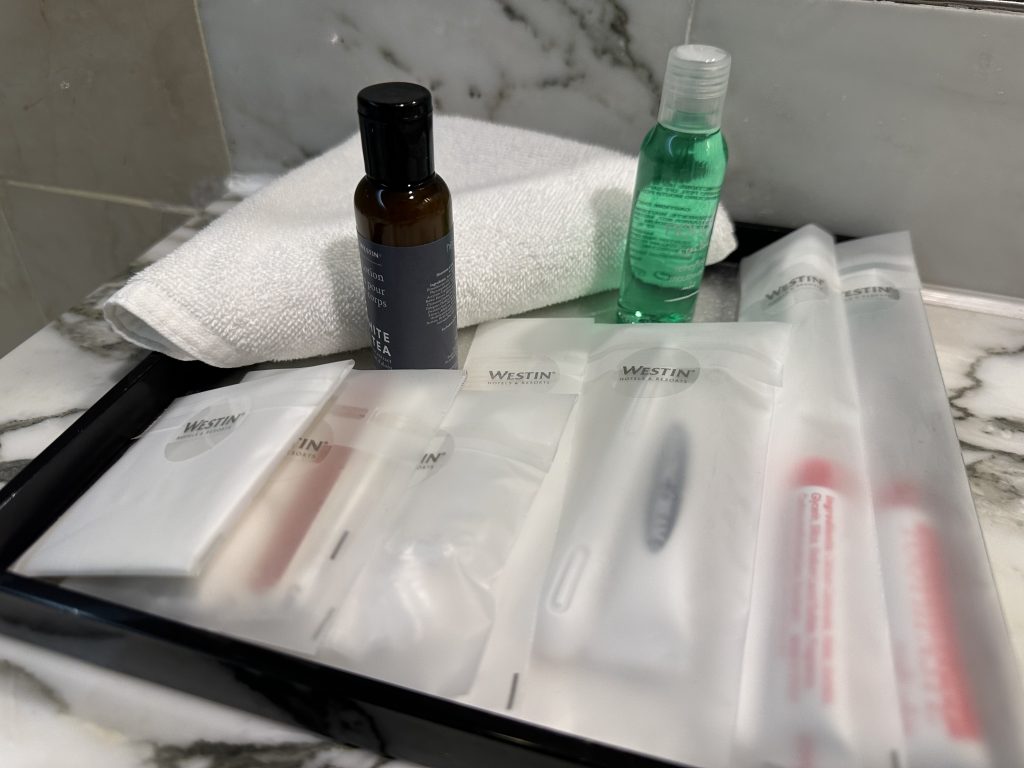 Working Desk
Socket type: Universal
Display extension: TV is not accessible to HDMI panel.
Bathroom
The Westin Kuala Lumpur's bathroom provides a comfortable and well-appointed space for guests to refresh and relax. The bathtub and shower are separate, ensuring a convenient and enjoyable bathing experience. The water pressure, including hot water, is excellent.
Amenities include standard Westin items, offering a touch of luxury for guests. The bathrobes are of high-quality textile and are available both in the closet and the bathroom.
The toilet is equipped with a shower, and the toilet paper provided is soft and of good quality, ensuring a pleasant experience for guests.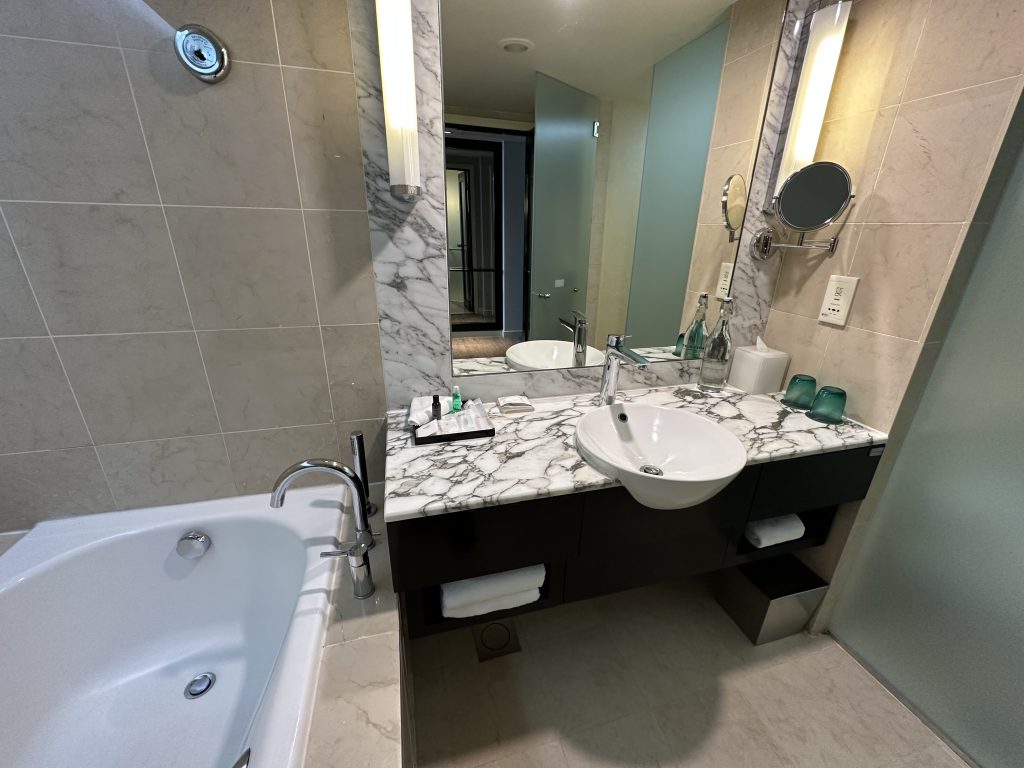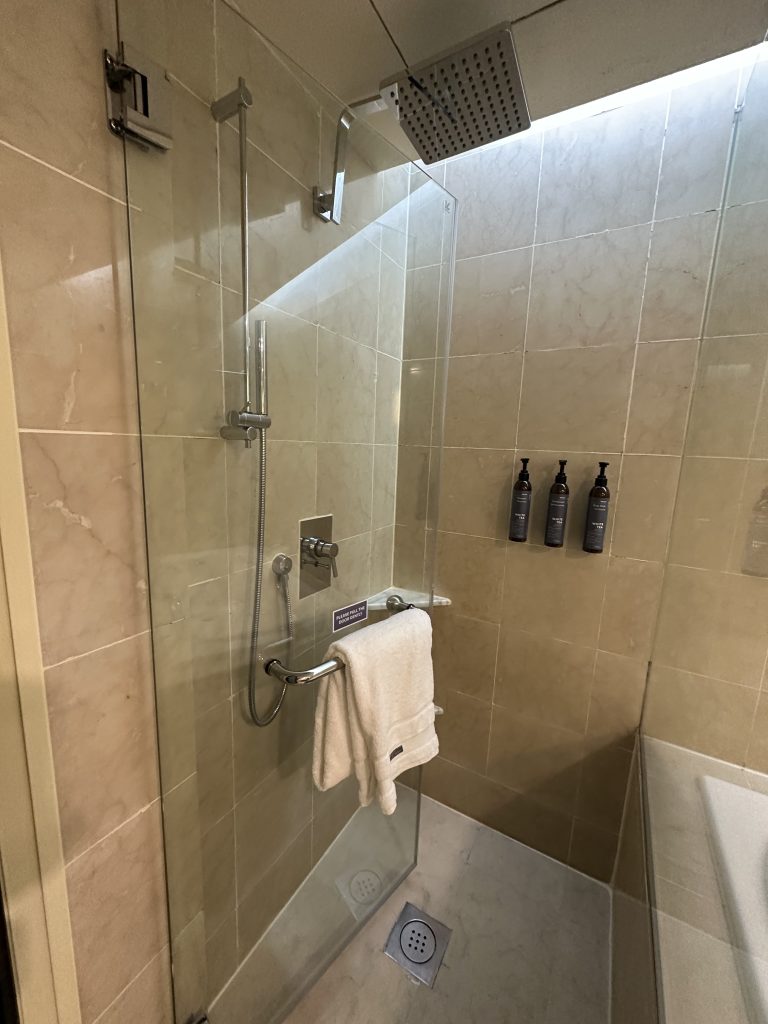 Club Lounge
Cocktail time at the club lounge was one of our highlight of our trip this time. Westin KL's club lounge is famous for the wide range of the "dinner"available even though its called a cocktail!
The Club Lounge offers a comfortable and spacious setting for guests to unwind and enjoy a selection of drinks and snacks. During the cocktail hour, guests can also indulge in more substantial dishes, such as pasta and salads, along with a variety of alcoholic beverages.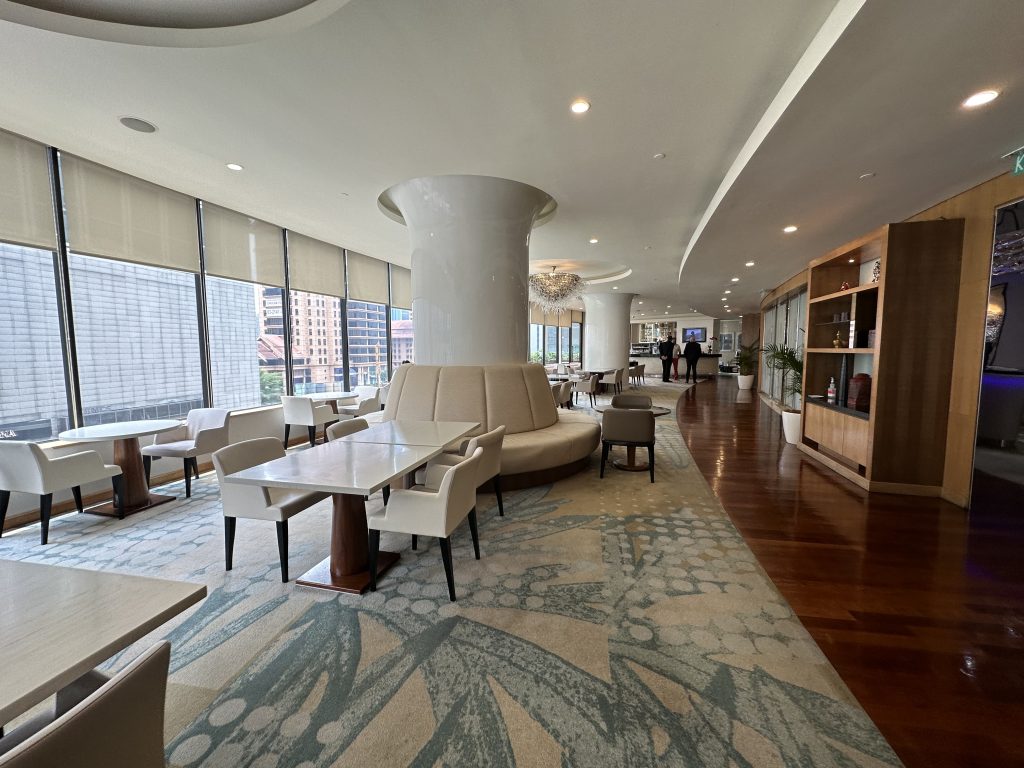 Cocktail Hour 5:30pm-10:30pm
This is probably the highlight of the club lounge. They offer not only cheese and cakes, but you can enjoy from soup and salad, to pasta and some local tastes! Picture below speaks thousands words!
Drinks also available from wine, beer to whisky! Wide range of soft drinks also available, but not sparkling wines.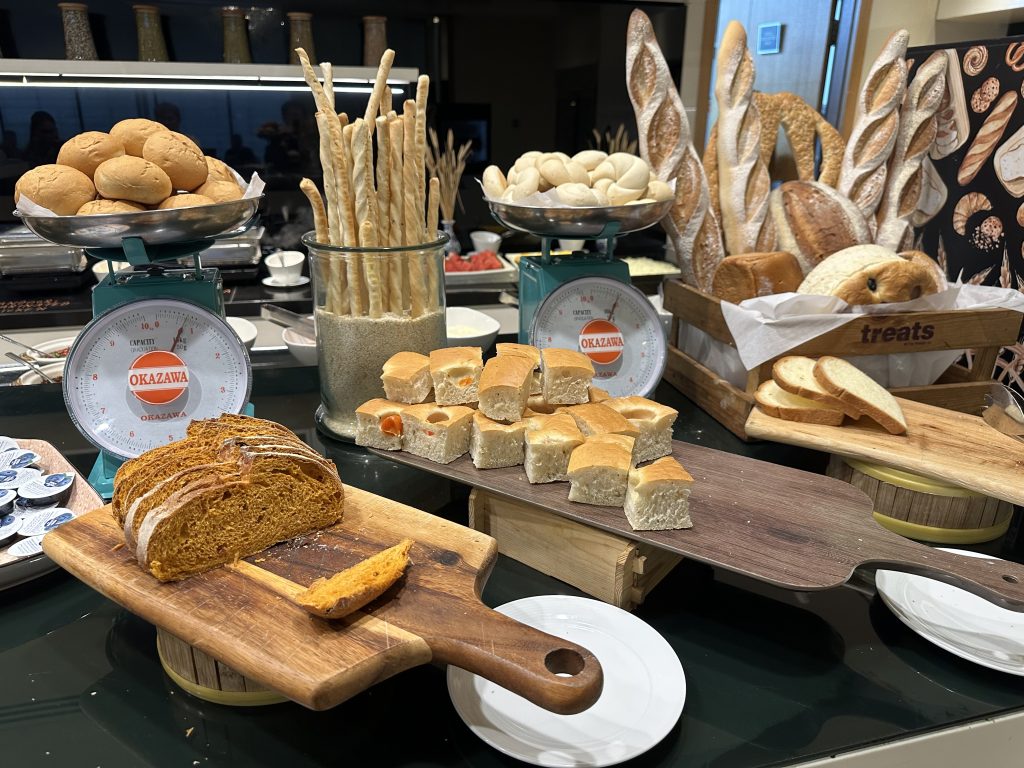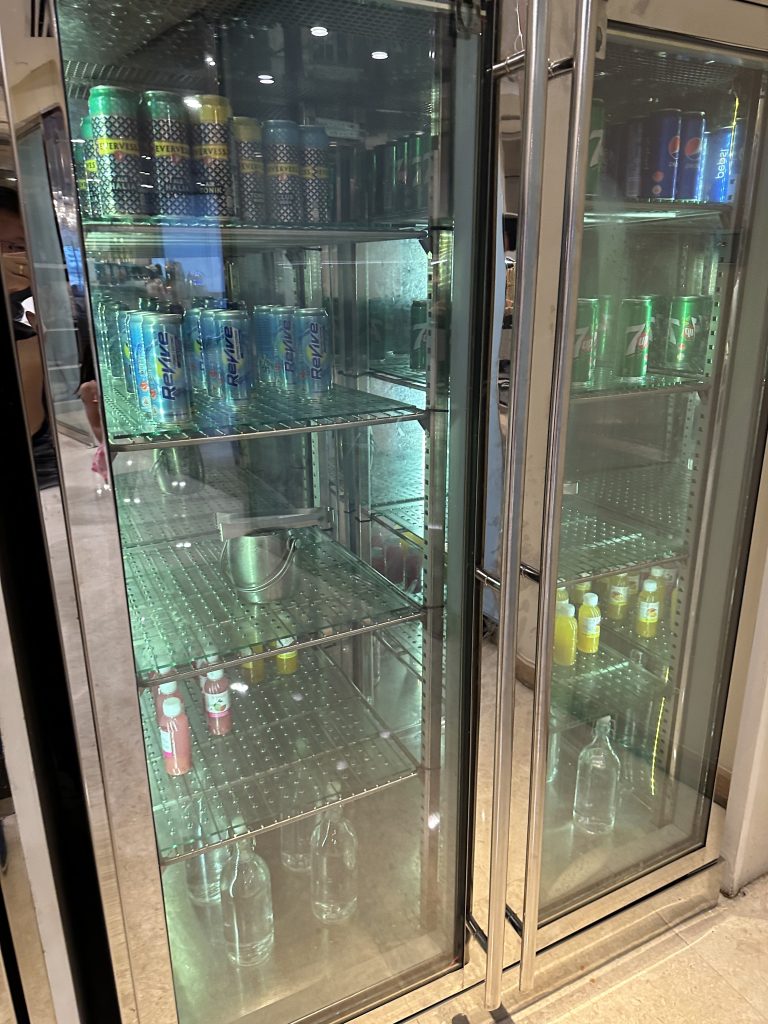 Tea Time (afternoon)
We visited the lounge in the early afternoon of the holiday weekend. There were about a dozen of groups, ranging from couples, families and to the business people. Lounge is still well staffed and available with some fruits, cookies and finger foods.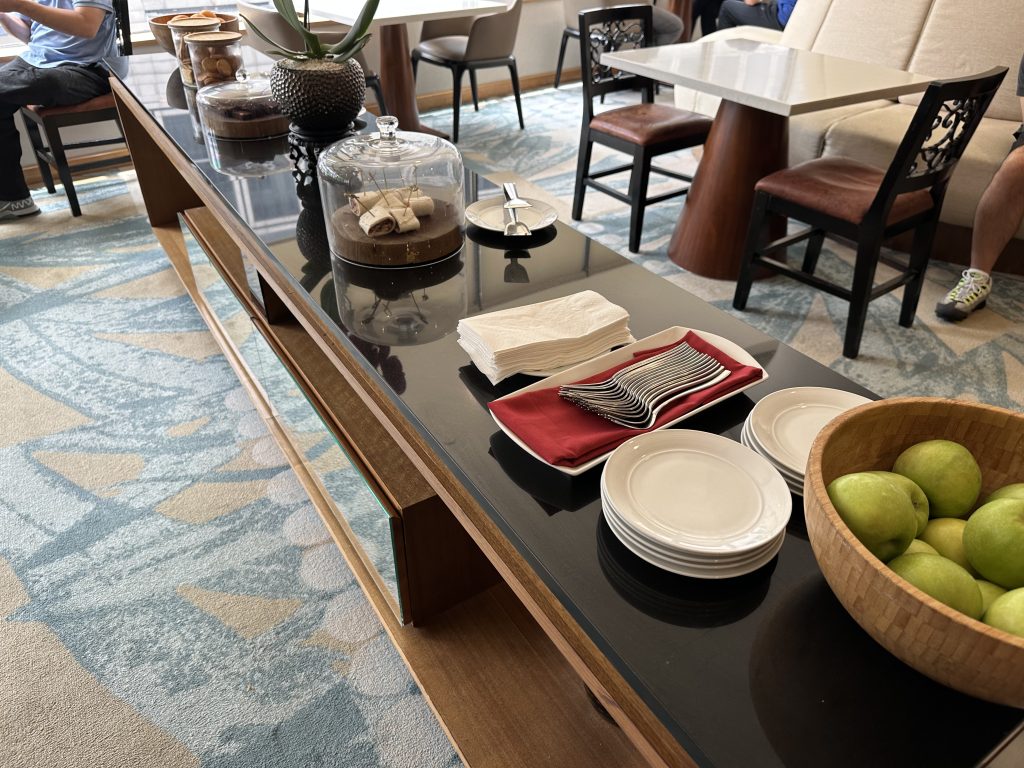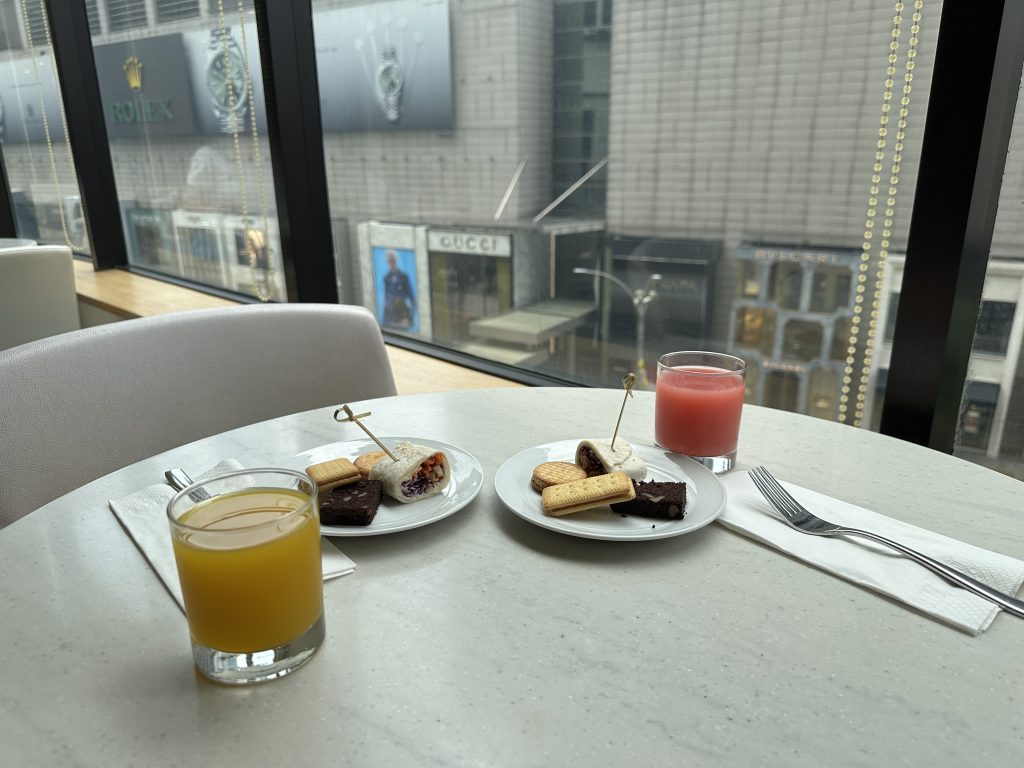 Facilities (Gym, Pool etc)
Gym: Accessible, with water, towel, and other amenities available. One of the best gym equipment you can find. Rowing machine for me is a +++!

opening hours: 24hours
water: YES, dispenser
towel: YES
other amenity availability: see picture for the range of gears

Swimming Pool: Relaxing and well-maintained, with towel and drink services but not for serious swimmers.
In addition to the above, Westin now has "Gear Lending" programme. You can borrow Hypervolt Go 2, the Hypersphere Mini and Normatec Go as well as Bala Bangles, Bands, and Balance Blocks. For example, Hypervolt Go2 can be borrowed RM25! Its a also good opportunity to try the product!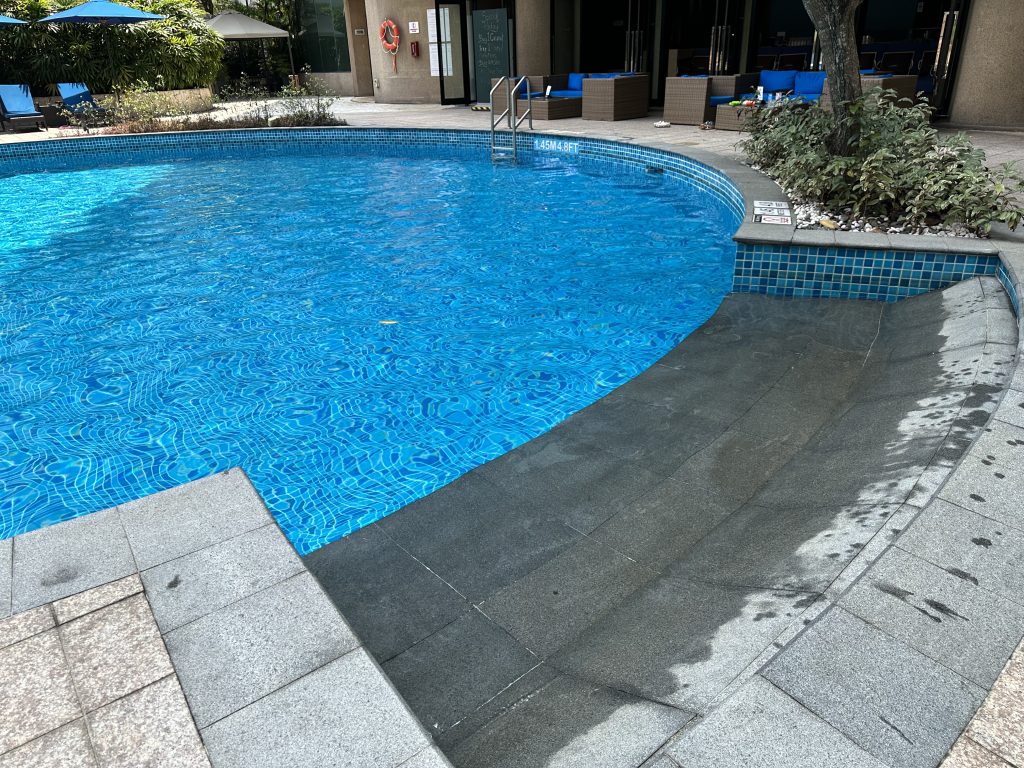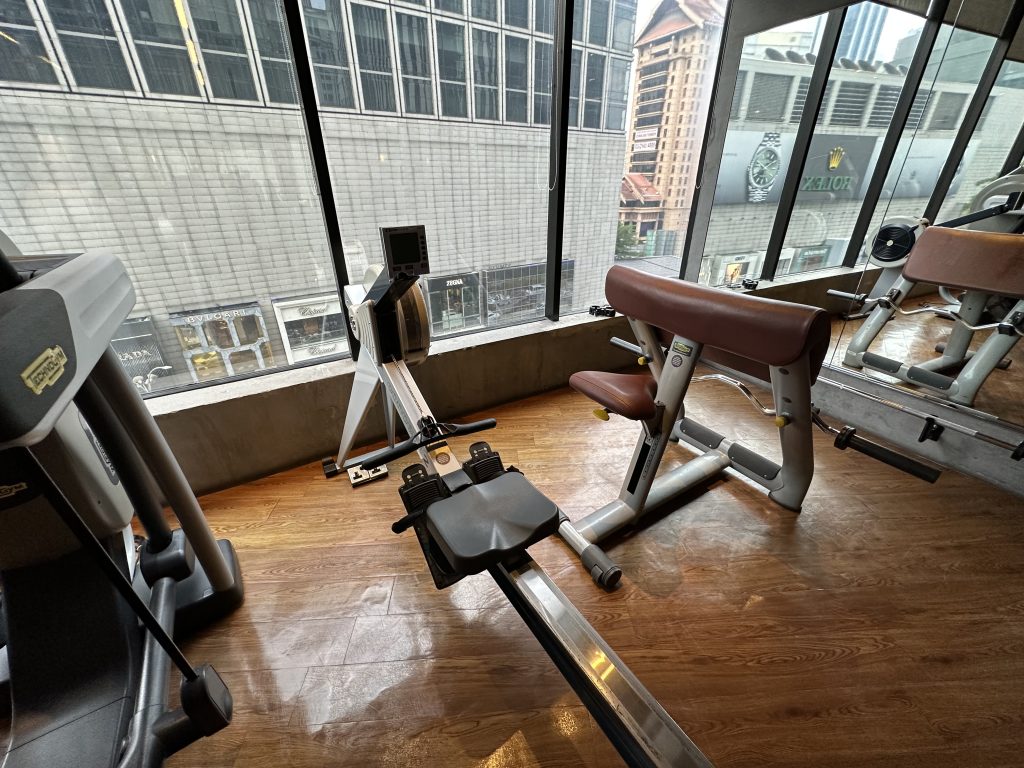 Dining Options
Breakfast at the restaurant
The breakfast buffet at the Westin Kuala Lumpur offers a wide variety of choices, with different sections spread across the restaurant.
The challenge in this restaurant was the area of the food is spread to several areas, especially salad section, Indian food section and dessert section is hard to locate. We actually missed the Indian food section and just realised when we are exiting the restaurant!
Service and Staff
The service at the Westin Kuala Lumpur was outstanding, with attentive and friendly staff. I stayed other Marriot hotels near by but I felt Westin staff was more friendly and attentive.
Surroundings
The Westin Kuala Lumpur boasts a prime location, offering guests easy access to nearby convenience stores, shopping malls, and recreational areas.
Access to nearby convenience stores or shopping malls: The hotel is within walking distance to various shopping malls, such as Pavilion Kuala Lumpur, Starhill Gallery, Lot 10 Shopping Centre, and Berjaya Times Square. Convenience stores are also available nearby for guests to pick up essentials.
Parks or jogging paths: For those looking to maintain their fitness routine or enjoy a leisurely walk, the nearby KLCC Park offers a scenic jogging path and a lush green space for relaxation. The park is approximately a 15-minute walk or a short drive from the hotel.
My Reviews
【Rooms】★★★★
With an extra bed, the room was spacious and comfortable. The extra bed cost RM70 and was arranged within 30 minutes of our request. However, it took some time to get the additional amenities.
【Value for money】★★★★
The stay was a great value for money, considering the quality of the room and services provided.
【Dining】★★★★
Club Lounge offering are very generous and really enjoyed.
The breakfast at the restaurant had a wide variety of options, but the sections were spread out, which made it challenging to find everything.
【Service】★★★★
The check-in process was smooth, and the staff was able to accommodate an early check-in at 12:30 pm. The service at the Club Lounge was also impressive.
It took some efforts to get additional amenities for added headcount in the room.
Very friendly staff.
【Facilities】★★★★
The Club Lounge was spacious and offered a wide range of food and beverage options.
The gym and swimming pool were not used during the stay but gym is one of the best you can find in a hotel.
【Cleanliness】★★★★
The hotel's cleanliness and hygiene standards were well-maintained.
【Will-return rate】★★★★★
The overall experience was fantastic, and there is a high likelihood of returning for future stays.
Hotel Details
The Westin Kuala Lumpur
Website: The Westin Kuala Lumpur
https://www.marriott.com/en-us/hotels/kulwi-the-westin-kuala-lumpur/overview/
Address:
199, Jln Bukit Bintang, Bukit Bintang, 55100 Kuala Lumpur, Wilayah Persekutuan Kuala Lumpur
---
Special Thanks
I referred to the below blogs while I am planning my trip!
Please follow and like us: