Typhoon Hagibis (or also known as Typhoon 19 in Japan) is heading towards Tokyo and other areas of pacific coastal Japan, including Chiba, Mie, Shizuoka, Nagoya / Aichi Prefecture, Yokohama / Kanagawa Prefecture.
Please note Japanese people calling this typhoon as Typhoon 19, never by the name of Hagibis, and I realized many local English websites referring by this naming.
Change your Plan for Saturday 12th and Sunday 13th
The forecast shows the typhoon is hitting on the 3-days holiday of Japan and you may have travel plans but I strongly recommend you to change any plans for the Saturday and Sunday.
Minimum Things you should know
Plan ahead. Don't go out.
it is simply too dangerous to go out during peak hours. If you are in a house or apartment, it is also dangerous to open windows or doors, as very strong winds blow into the room (this may blow your roof away!)

Check where you are.
Risks are different from locations to locations. You may be exposed to flooding from the river, might have landslide or more exposed to strong winds. Some may need to worry about tidal waves.

Be Prepared
Prepare at least food and drinks you need for peak hours (24 hours) if you don't have any food reserves. There may be no power or water so avoid the food you may need to cook, even 'cup noodles' cannot be prepared if the power is down.
This is merely not enough to mention but this is at least the things you should know.
Tourist Hotline by JNTO
JNTO (Japan National Tourism Organization) operates a visitor hotline 24 hours. Call for tourist info or assistance in case of accidents and emergencies. Support is available in EN, CN, KR and JP. From Japan 050-3816-2787 From Overseas or international roaming phone +81-50-3816-2787

Chatbot (in case of emergencies only)
https://webchat.bebot.io/JapanNationalTourismOrganization
If you are staying in Airbnb
I must say you are now exposed to higher risk, as nobody going to help you explain what to do.
Please check what area you are staying in, you may be exposed to major risks if you are near rivers, or in the lower ground area. Also, check the nearest evacuation centers which is usually posted in the parks or on the utility poles.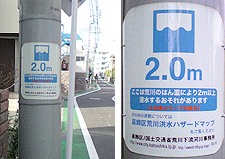 For example, the eastern Tokyo area may be hit by tidal waves (not only rain and winds are the concerns!)
If you can find which local government districts you are staying, check their website for hazard maps.
This typhoon hits on the spring tide
The typhoon is hitting on the hours of the high tide and this significantly raise the risk of the storm surge. Areas near the coastal line or riverside are vulnerable to this risk.
In Tokyo, especially areas around Arakawa or Sumida River -this includes Asakusa area- are vulnerable to this risk.
Useful Website
General Info
Trains
Not only Shinkansen, but also local trains or subways may suspend its service. Please anticipate your travel plan never works as you have planned.
Many train services in Tokyo considering to suspend or reduce its service as early as Friday night until Sunday morning.
SHINKANSEN
LOCAL TRAINS in TOKYO
Flights
ANA or All Nippon Airways already announced to cancel all domestic flights to/from Tokyo (Both Haneda and Narita) and some flights in the other airports such as Nagoya Chubu, Osaka Kansai on October 12.
https://www.ana.co.jp/fs/dom/en/
JAL or Japan Airlines not announced the specific cancellation calls but expecting major irregular operations.
https://www.jal.co.jp/cms/other/en/weather_info_dom.html#OUTLOOK
Other Popular Areas
Notes
14:45 Oct 12; changed title from "Typhoon Hagibis heading towards Tokyo" to "Things you should know before Typhoon Hagibis reaches Tokyo"
---
Update notes:
Dec 28, 2019: Added a header image and "read more" separator due to the site design change.