Are you facing a typhoon for the first time? or you were unlucky enough to travel with a typhoon?
Here is a quick list of do's and don'ts in preparation of typhoon, assuming you are staying in Japan.
DO…
If you hear a word of 'super typhoon' in English news program, or local news program spending the majority of the time on the typhoon information, its time to act!
Plan advance
Cancel your appointment, run below checklist. This is the minimalist checklist so please go more if you have resources to spend.

Change your plan
Whether you like or not, the train will be suspended, flight to be canceled. So change your plan. Or you can choose to spend your time with full of people, without water or a seat.

Prepare some food, water, and battery
Shops may be run out of food and drinks before the typhoon, and supply may short for a while. Buy enough food and water for at least coming 24 hours if you are a traveller. Bear in mind hot water or microwave is not available if the power is out.

Check your risk
Are you near to river or sea? Close to steep slope? In the open field?
Risk differs depends on your location; check flood, wind and landslide risks. If you are in the nature field, look for serious shelter. Don't even think about spending a rainy day in your tent. You may be blown away! (Not mentally but physically!)

Check your evacuation plan
If you are in a hotel, they will guide you when needed. But if you are in AirBnb, read below section as well

Prepare some cash
ATM and credit cards may not be used if the power goes down. Prepare some cash in smaller bills. The coin-operated public phones may be used with the coins too.

Stay out from window
If the wind gets stronger, stay out from the windows. Close the curtain just in case if it is damaged from flying objects.

Get information
Be connected to news programs or websites. I listed out some of the useful links below.

Prepare for lifeline cutoff
Anything depends on electricity may be out for days. Water supply depends on the pumps so it may be cut. TV, phone networks, hot water kettle, microwaves, anything can be out. Use your bathtub for water storage, prepare some dry food.

Also, if you are a resident in Japan, please check below as well.
Don't …
Go outside. Try out typhoon
The strong wind blows anything, from umbrella to even a truck (I mean the lorries!). Water can carry anything too and hides risks. There may be an open manhole below the water. Its serious stuff. Don't try it out. You may risk your own life.

Go close to the water
Whether its river banks or beaches, don't go near. There may be flooding or hightide which may take you away.

Get close to slopes or cliffs
The area has higher risks of a landslide. Especially if there are rolling objects, hearing noise or water comes out from middle of the ground, there are imminent risks.

Use umbrella
Well, you may test it but it is useless. Even may post danger to others.

Use of elevators (lifts)
If you are really in the middle of major typhoons, avoid using the lifts. Once power is cut you may be trapped inside.
Staying with Airbnb?
I must say you are now exposed to higher risk, as nobody going to help you explain what to do.
Please check what area you are staying in, you may be exposed to major risks if you are near rivers, or in the lower ground area. Also, check the nearest evacuation centers which are usually posted in the parks or on the utility poles.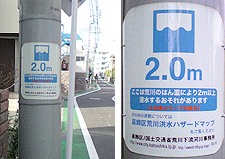 For example, the eastern Tokyo area may be hit by tidal waves (not only rain and winds are the concerns!)
If you can find which local government districts you are staying, check their website for hazard maps.
For Resident
Check out your house.
Check out house
You may wish to check your loof and walls. Clean ditches so that the rain drains better.

Bring things to inside the room
Do you have the laundry hangers and greens on your balcony? Take them inside. It not only prevents damaging it but more importantly, they may be blown away and hit somebody. This prevents you to become an unwilling killer. Also, washing machines, bikes, propane gas and trash boxes may be blown so fix them to the structures.

Keep valuables to the higher area
Anything you have on the ground floor may be brought up to the higher areas, whether on a shelf or to the upper floors.

Close the shutter or storm door
If your place having such shutters, close them. If not, close your curtain. If you really feel the danger of strong winds, you may be some tapes or cardboards on the glass window.

Check your local government website and extract the hazard map
It shows forecast for flood levels and other relevant danger to you.

Talk to your neighbors
If you have friends, talk to them. Ask what are their plans. You may not be able to reach them once storm is landed, and you cannot take any further actions once the heavy wind starts.

Keep shut your doors and window.
You may want to check outside but don't open your doors nor windows. A strong wind will blow in and you may not be able to close. Worse, you may blow off your roof because of strong winds and a change of pressure.
Useful Links
Need assistance? JNTO Tourist hotline
JNTO (Japan National Tourism Organization) operates a visitor hotline 24 hours. Call for tourist info or assistance in case of accidents and emergencies. Support is available in EN, CN, KR and JP. From Japan 050-3816-2787 From Overseas or international roaming phone +81-50-3816-2787
Chatbot (in case of emergencies only)
https://webchat.bebot.io/JapanNationalTourismOrganization
---
Updates:
Dec 28, 2019: Added a header image and "read more" separator due to the site design change.